How Biannual Professional Cleanings May Keep Your Mouth In Great Shape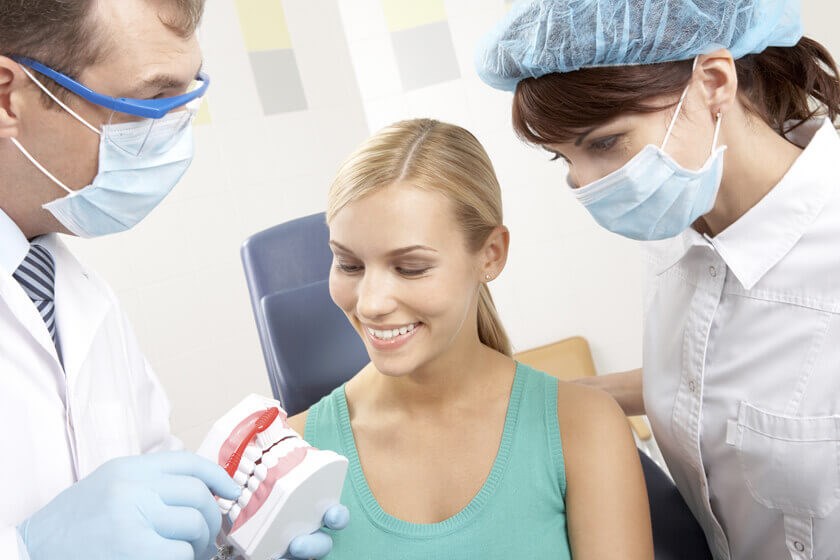 Sticking to a regular system that involves brushing and flossing every morning and night is crucial to make sure that your dental wellness is in great condition. However, one fact that several individuals don't know is that teeth cleanings from a dental hygienist are just as essential to your dental wellness. Regular dental cleanings, sometimes known as prophylaxis, are a general dentistry service that eliminates plaque and polishes the enamel. Getting your teeth professionally scaled and polished on a regular basis should keep plaque, buildup, stain accumulation, and several other issues controlled. Eliminating plaque may also improve your teeth and gums into greater health, as well as refresh your breath.

Seeing your dentist a minimum of two times each year for teeth cleanings is a necessary aspect of each person's oral care plan. Our knowledgeable team of dental professionals and hygienists utilizes refined approaches to conduct routine oral care services and elevate the health and happiness of Pearland, TX individuals. When you require a professional teeth cleaning or have other oral wellness issues, Made Ya Smile Pearland, TX wants to be your trusted provider of oral care. We encourage you to look through this piece so you can discover everything you need to know about biannual dental cleanings and the ways this important dental care service might benefit your smile, now and far into the long term.

WHAT DO BIANNUAL DENTAL CLEANING SESSIONS INVOLVE?
A routine teeth cleaning at Made Ya Smile Pearland, TX will be tailored to address your individual oral requirements. Other comprehensive dentistry services may also be completed during a cleaning session to enable you to get the greatest benefits out of your trips to the dentist. The other procedures may include dental sealants and fluoride gel. Dental cleanings by our talented Pearland, TX team are comprehensive and individually tailored to enable you to enjoy your healthiest smile.

First, our team will learn about your medical standing
Pearland, TX adults and children are commonly taken aback to find out that their oral health could have an effect on their general physical well-being. Prior to your teeth cleaning, your current health situation, along with any drugs or supplements that you're taking, will be carefully evaluated. This often gives our staff a more comprehensive understanding of your overall physical health and how it may affect your dental wellness.

After this, someone on our dental staff will clean and polish your teeth.
The majority of your professional cleaning session will be dedicated to removing plaque and tartar from your enamel. Food particles and buildup provide a home in which problematic bacteria live and produce toxins that may potentially deteriorate some oral structures, like the enamel. The exceptional professionals at Made Ya Smile Pearland, TX will thoroughly remove the plaque and bacteria from your teeth to help improve your dental wellness and minimize the risks of several conditions, including enamel deterioration and gum disease. Yellowing or stains that have accumulated on the teeth from tea, coffee, or different foods may also be polished off for a whiter and fresher appearance to your smile.

Fluoride treatments could be administered to children or teens who are susceptible to tooth decay
A fluoride application is a popular solution we provide to strengthen the teeth and shield them from the development of tooth decay. This treatment is typically suggested for children, but it can also be good for adolescents and men and women who have signs of early tooth decay, a tendency to develop cavities, exposed root surfaces, and other areas of concern. To help patients who are at a higher risk for tooth decay, fluoride could be layered on the enamel near the last part of their teeth cleaning checkup.

HOW REGULARLY SHOULD YOU HAVE A PROFESSIONAL DENTAL CLEANING?
Regular teeth cleanings are generally recommended about twice every year, but individuals who have periodontal disease or other oral problems may require cleanings more often. Our skilled Pearland, TX team will identify your concerns and help you decide the teeth cleaning schedule that's adequate to make sure your teeth and gums are in the best shape.

CHOOSE A DENTAL PRACTITIONER WHO'S DEDICATED TO THE HEALTH OF YOUR SMILE
The smile is generally one of a person's most beautiful traits. Getting biannual dental cleanings is essential to ensure that your smile is happy, cosmetically appealing, and in its best condition. To accomplish this, it's crucial that you choose a dentist who is just as devoted to the wellness of your oral structures as you are. The team of oral care practitioners at Made Ya Smile Pearland, TX is dedicated to improving the well-being of our many patients by using a personalized approach to oral treatment. We encourage you to call our Pearland, TX practice when you have time to arrange a visit for a routine dental cleaning.